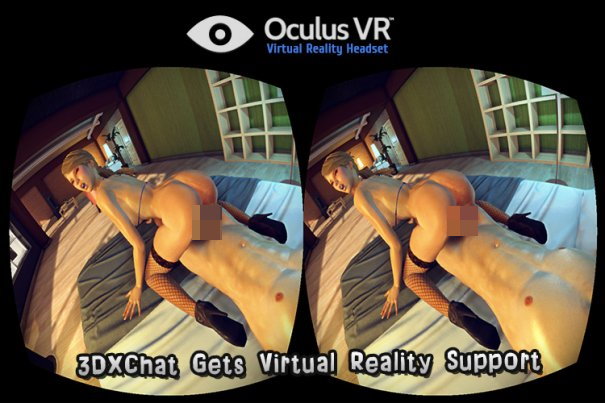 They did it, they fucking did it, the most powerful tool in virtual sex technologies since real sex.
Not even a month ago (!) we reported about the announcement of the first sex game development for the Oculus Rift device: A new game development named Wicked Paradise to be released in 2014. In our estimation much more chances for being the first sex game to fully support the Oculus Rift Virtual Reality Headset were existing and technically already sophisticated games like 3DXChat or 3D SexVilla 2.
Well, our crystal ball to see into the future is good but not as good as the Sex Game Devil development team from 3DXChat who NOW receive the title "First sex game with Oculus Rift support!". Congratulations!
3DXChat already supports the VStroker Fleshlight penis controller which transmits every penetration of the FleshLight to the girls mouth, pussy or ass in real-time. Supporting the Oculus Rift device, a high-end headset who lets the wearer see everything from 1st person perspective in contrast to a flat computer screen, makes the experience of having virtual sex as immersive as someone could expect virtual reality to be these days.
See the new 3DXChat virtual reality trailer: