April 20 is Utherverse Day and the start of one week full of parties and events!
Free Rays (the virtual in-world currency of RLC with a real cash value) will be given away all week long, as the Utherverse Team is celebrating the launch of their newest software multiserver code that has made Utherverse software more stable than ever before!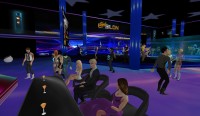 Join the celebration week in Red Light Center, Rude Virtual and Virtual-Vancouver to get free Rays at the following in-world locations:
Temptations – RLC, Main Street on Monday 4/20
Shockers – Virtual-Vancouver, Main Street on Tuesday 4/21
Silken Exposure – RLC Alley on Wednesday 4/22
Rude Virtual – Rude Main Street on Thursday 4/23
Nostalgic Dreamz – Virtual-Vancouver, Granville Street on Friday 4/24
The 7 Sands, Virtual-Vancouver, Granville Island on Saturday 4/25
And finally you can party and win prizes with RLC Working Girls and Guys in the huge dirty-dancing, naked hot-tubing, blow-out, smoke-out event at the Bareback Bordello in RLC (Free Basic Membership) on Sunday, 4/26!