Girlvania : Singleplayer Virtual Sex Game
MMOVSG.NET
Review Rating
8.6

/10 (Great)


The smoothest sex simulation available

She reaches her climax when she decides to, no idiotic "click for climax" button

Graphics and animations of superior quality: Rich in detail and realistic
Website:
Girlvania Website
Girlvania Review

Girlvania "Summer Lust" developed by Girlvanic Studios is a downloadable single player sex game that focuses on lesbian sex simulations to be played offline (one time purchase, no membership or subscriptions).
On the games homepage one finds the statement "smoothest sex simulation" which hits the heart of the matter!
The unique feature of Girlvania is the smoothness of all the elements important for a successful sex simulation: the extremely easy handling, the naturalness of the models and the pleasant ambience. Girlvania reaches a level of eroticism where most other sex games are long way behind.
Say hello to four lovely beauties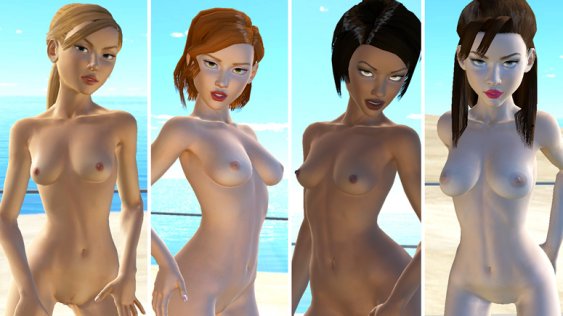 | | | | | |
| --- | --- | --- | --- | --- |
| | Breasts | Eyes | Hair | Measurements |
| Dakota (USA) | Round | Blue | Blonde | 34B/24/34 |
| Sherry (USA) | Full | Green | Copper Blonde | 37C/26/37 |
| Tessa (Virgin Islands) | Pointy | Cool Brown | Dark Brown | 35B/28/39 |
| Milena (Ukrainian) | Wide | Blue Gray | Chestnut | 40C/23/33 |
Beautiful and breathtaking girls:
Face, body, erogenous zones, naturalness…everthing fits smoothly together.
Locations
There are different locations like the rooftop, the beach house or the basement.
Change the ambience of every location by changing the time of day (light selection):
Dawn, morning, day, overcast, sunset, night.
This provides the exciting atmosphere as basis of your fantasies. Get home with your girl in the morning hours after partying whole night to have some intimate time…you get it 😉
Click on the furniture etc. to make the girl go there, she will automatically arrange/pose herself at your desired spot.
Scenes / Actions
There is a great selection of well thought out sex positions, lots of stuff for everyones preferences and fetishes. Penetration comes with different toys like dildos etc., the girls use them to penetrate each other, check out some of the screenshots.
Every animation captivates by its smoothness and the girls most seductive facial expressions.
The actions are divided in the following three main areas:
– Solo
– Duo
– Threesome
Auto-Mode vs. Manual-Mode
In the auto-mode the girls will masturbate, insert toys or fuck each other by themselves. Click and hold on the point of action to select the speed in which the girl pleases herself or her partner.
In the non-auto-mode you take up the action and speed, every mouse movement will move the action with the same speed to make the girl rub her fingers on her pussy or insert some toy for example.
The Context-Menu for actions
Left mouse button on the girl opens the context-menu with the following options:
Choose pre-defined point-of-views: Her point of view, another girls point of view.
Choose another girl: Easily change the girl in every point in time, the new girl will simply take the position and continue with the activity seamlessly.
Choose additional interactive pleasing options:
– oral play
– boobs massage
– clit rub
– vaginal insertion
– anal stuffing
Adjust the tools/toys for all of these pleasing options by clicking on the tool/toy itself to get a huge drop-down list that will offer you the various options.
And finally the checkboxes to take off/on clothes.
Full pleasure
Giving the girl a massive boobs massage and anal stuffing at the same time while she is pleasing her cunt with her hand is how giving a girl an all inclusive satisfaction program works 🙂
Multiple insertions at a time!
The coolest feature
She comes when she decides to come, no idiotic "click for climax" action button. A girl reaching its climax in a such a manner is a stunning experience. She will even ask for more if you stop the sex playing when she is excited.
Graphics & Sound
The graphics are of superior quality, rich in detail and realistic.
The facial expressions of the girls are absolutely convincing, a clear advantage compared to most other sex games where exciting levels often appear phony. This applies also for the body language, speech, breathing and panting. Every girl has their very own voice set. Furthermore the excitement happens not arbitrary but in perfect response to the player's action.
Controls & Camera movement
Easy to understand, intuitive and well documented during gameplay.
No need of using the keyboard, very easy gameplay by solely using the mouse. Nothing disturbs the togetherness.
– Use mouse movement for 360 degree camera angle rotation
– Use mouse wheel for zooming in and out
– Use right click to easily adjust the camera height
After a little bit of practicing you will fast be able to reach every perpective you desire.
Add additional view boxes on your screen to see the girl simultaneously from different camera angles. A feature that is missed in other games and porn movies, we not only want to see how the girl gets fucked but also her facial expressions at the same time!
The girls will follow you with their head and eye movement.
Tip: Very nice boob lookout in the "her point of view" perspective 🙂
Shot mode (take photos with your camera)
The shot mode adds spice to the game and provides immersion. Use artistic camera affects like black & white, sepia or postcard.
– Click mouse wheel to turn shot mode on/off
– Use left click to take snapshots
– Hold right click to seamlessly adjust camera height
– Double click right to change camera angle
All your photo shots are available in your album.
Customization
Very realistic and fashionable clothing. It makes fun to dress and paint the girls whilst they are standing right in front of you to become your very own and favorite looking girl. There is already a large list of different pre-customized girls!
Hair
Select from different hairstyles to design head and pubis.
Makeup
The following categories are available for makeup style:
Eyeshadow, nailpolish, lipstick, contacts, suntan, bodyoil
Nearly 30 eyeshadow colors and lots of lipstick colors.
Dress
The extensiveness of possible dresses and dress combinations is absolutely awesome:
– Top/Bottom: Microkini, curacao, biscayne, bellina skirt, ventura shorts, …
– One piece outfits: So vain dress, heroine or vamp bodysuit, recife swimsuit, …
– Lingerie: Boudoir/shell, push-up/sweetheart or sport bra, boudoir thing, shell/sweetheart or sport panties, june t-string, …
– Hosiery: Nylons, footless high socks, bay leg Warmers, sporty socks, molly socks, …
– Shoes: Acero boots, urban sneakers, cimarron sandals, aqua flip-flops, …
– Accessoires: Slayer wristband, stick earrings, different hoops and earrings, rings, watches, …
Every unique piece of dress has its very own selectable set of colours.
Save and load outfits you combined.
Tip 1: Suntan is a cool thing, one knows to see body parts that are normally kept secret by the girls at the beach and elsewhere, got it ? 🙂
Tip 2: The tights will break so you can enjoy them even while having sex.
Conclusion
As one-time-payment with no subscription fee Girlvania represents a sex game recommendable without any limitations. Absolutely worth playing.
The smooth one-of-a-kind gameplay enriched with multifaceted customization capabilities provides long-term fun.
Don't forget the shot mode while having the girl in action and short before orgasm to take make some hot pictures.
Girlvania Screenshots
Girlvania Spec Sheet
Girlvania
Very convincing lesbian sex game with a one-of-a-kind gameplay enriched with multifaceted customization capabilities that provide long-term fun.
| | |
| --- | --- |
| Developer | Girlvanic Studios |
| Type | Singleplayer Virtual Sex Game |
| Genre | Lesbian Sex Game |
| Status | Final |
| Platforms | Windows XP/Vista/7/8/10 |
| Languages | |
| Price | $39.99 for Full Version (one time purchase, no membership or subscriptions) |
| Website | Girlvania Website |
Girlvania

,