Yareel : Multiplayer Virtual Sex Game
MMOVSG.NET
Review Rating
7.7

/10 (Good)


Available on mobile devices as Android App

Huge number of standard and exotic sex positions
Website:
Yareel Website
Yareel Review
Yareel is a multiplayer 3D sex game that offers free-to-play access.
By using the UnityWebPlayer there is no download or installation necessary to your local PC, the game runs completely online in your browser.
Just select your gender and your sexual orientation and you directly start the game.
The unique selling proposition of Yareel is definitely its additional availability on mobile devices as Android App (APK file which is installable without Play Store).
Think about having a sex game on your smartphone or tablet computer always with you 🙂
Connecting by Yareel with your partner on trips or at long-distance relationships opens whole new possibilities for intimacy phone calls.
The user interface is very attractive in its organization and intuitive usage, you'll love it instantaneous.
To become familar with the Yareel game play start the tutorial with Kate or with Mike, the simulated partners (bots) with which you practice all game play options.
This makes fun and you already earn coins (in-game currency) by practicing with the guy or girl bot avatars.
After praticing interact with people from around the world to flirt online and have digital sex with them.
Mobile support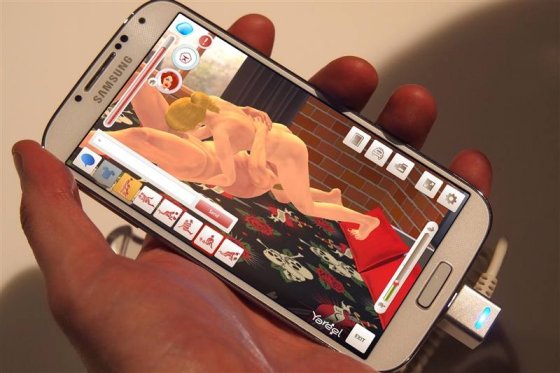 Menus & Options
Main menu options:
– Partner search by search options
– Random partner search
– Shop & specials
– Play with Kate or Mike
– Link to your private room (your very own sub-URL on the yareel.com website to invite somebody)
Search options (search people and watch their profiles):
– Language / countries
– Age, height, body type, hair color
– Only registered users
– Sexual interests
– Number of concurrent sex partners (threesome, group sex)
Customization options:
– Body (face, hair, eyes, lips, penis size, breast size)
– Clothes (tops, trousers, shoes, tatoos)
– Poses (double hetero/gay, threesome (both kinds), foursome (2m2f)
– Toys (hand cuffs, gag ring, dildoes, strap-on)
– Energy (condoms)
– Houses (basic house, motel, condo, modern house, mansion)
– VIP stuff (invisible mode, fast lane in random search, …)
Balance (in-game currency / resources):
– Strawberries
– Coins
– Condoms
Hall of fame:
– Finished games, likes, points and earned coins …
– … divided by daily, weekly and monthly stats
Having sex
Action screen options:
– Chat area with chat history
– Excitement barometer accompanied by an orgasm button
– Action speed slide control (5 levels)
– Buttons for fullscreen mode and game play adjustments
Sex pose areas:
– Talk and kiss poses
– Take off clothes
– Cunnilingus and fellatio poses
– Face to face actions
– Rear entry poses
– Cowgirl poses
– Exotic poses
– Male/Female domination poses
There are more than 50 basic sex positions available that offer a large variety of all the well-known positions and even curious ones. Be sure to find sex positions for all holes. In addition these basic positions are available in modified ways where toys like hand cuffs or gag rings are used.
Click into the room to change the camera perspective, 3 different camera positions for each sex pose.
During multiplayer game play everyone can propose change of positions whereat counter proposals are possible.
Graphics & Sound
The sex poses in Yareel are very smooth animated. The graphics don't demand to be high-end but are nevertheless very appealing.
The sound of the bot avatars is good but sometimes repetetive but fits always to the speed which makes it feel real. The real sound anyway make the real players during multiplayer mode.
Conclusion
Even if the graphics and camera options for zooming and rotation aren't state-of-the-art the game is able to generate its very own appealing atmosphere and provides a solid basis for arousing multiplayer game play.
Another clear advantage is the low priced VIP Membership for just $29,95 a year. Not to forget the unique feature that Yareel is offered as mobile version as well.
Everyone who registers gets 100 coins for free and discovers new poses, rooms and clothes.
This is completely free as well, no costs to gain registered user status for the mentioned extras.
Yareel Screenshots
Yareel Spec Sheet
Yareel
Multiplayer 3D sex game that offers free-to-play access.
Developer

Yareel Entertainment Ltd.



Type

Multiplayer Virtual Sex Game



Genre

MMO Social Game



Status
Final

Platforms
Windows XP/Vista/7/8/10 Android

Languages


Price
Free-to-play access for using basic clothing and sex actions.
VIP Membership with the following subscription types:
1 Month $9.95
3 Month $19.95
12 Month $29.95

Website
Yareel Website

Yareel

,